Another finished item, in the form of a loud version of the One Skien Scarf from
The Happy Hooker
book...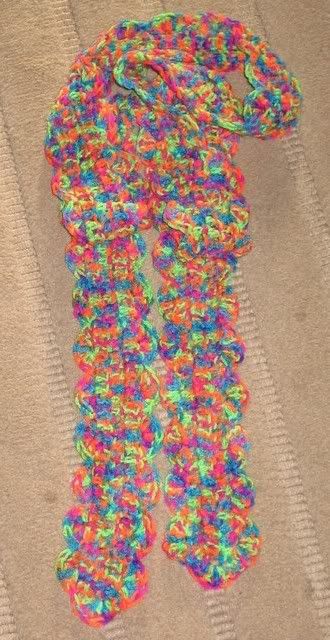 I liked the way this one made up, the instructions were clear and since it only uses a single stitch type (doubles or trebles depending on whether you're reading American or British patterns) it was easy and made up very quickly. The photo here doesn't really do it justice - in the flesh it makes me think of smarties - but worn over a plain dark layer and wrapped a couple times around my neck it looked quite pretty in a colourful way. :)
And since Steel breeze asked, I finished the jacket you'll have seen me working on, sewing on all 22 buttons over the weekend.
This one is based on an early 18th century riding jacket, cut in a masculine style. It's made up in brown cotton moleskin and lined in cotton (back and sleeves) and silk (front and skirts). Those flaps conceal real, functioning pockets!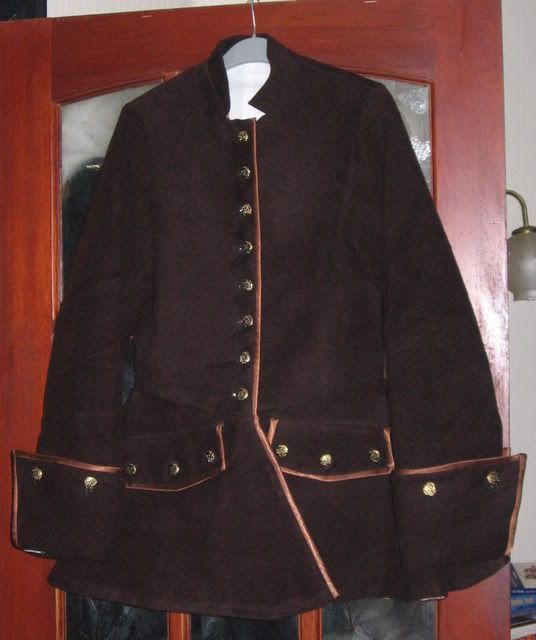 I've yet to wear it over the full kit, so don't have any photo's of it in context I'm afraid, but picture it over full culottes and worn with a tricorn and I think you get the idea.
And finally, for those who might wish to see... A flash of the hideous diamond check pink silk lining, which I think is just perfect. :D